Posts in the 'Vintage' Category
7 June 2010
A little over thirteen years ago, the Lord gave my mother the vision of homeschooling. As she shared about it with my father, God laid it on both of their hearts. There wasn't a choice.
And here we are. Thirteen years later.
My gratefulness to God and to my parents can never be fully expressed. Because of being educated at home, Breezy and I were able to be raised with a biblical worldview and Christ-centered education.
The precious parents my Lord has blessed me with, by God's grace, were able to follow the commands in Deuteronomy 6:5-7, which says,
"You shall love the Lord your God with all your heart
and with all your soul and with all your might.
These words, which I am commanding you today, shall be on your heart.
You shall teach them diligently to your sons and
shall talk of them when you sit in your house and when
you walk by the way and when you lie down and when you rise up."
Although my "official" home education is over, my education will never be complete . . . because I'll always be learning. Always be watching. Always be reading.
I like it that way. And I'm thankful to have had instilled in me the love of learning.
P.S. The photos are of crinkled, vintage dictionary pages, which will be a part of the decorations for my upcoming graduation open house.
9 February 2010
"In the same way that God designed all of creation in its undeniable perfection and beauty, He handcrafted each girl's situation with exquisite precision. He chose the exact parents, position, and opportunities that would best fulfill His purposes for her life and bring Him glory. . . continue reading."
—Anna Sofia & Elizabeth Botkin at Visionary Daughters
"I don't think that any woman could prepare long enough to perfectly execute this list [in Titus 2:3-5]. But it is my duty to aim to follow this standard that God has set. . . . And what better way to practice being a keeper at home than to learn the ins and outs from my mother, who has wells of wisdom on the subject! And who could think of a better way to prepare to submit to a husband, whether he's right or wrong, than to practice in a daughters relationship to her father? . . . continue reading."
—Stephanie at In His Time
"It is when we create things for God's sake that our work most clearly promotes His glory, rather than threatening to compete with it. Thus the true purpose of art is the same as the true purpose of anything: it is not for ourselves or for our own self-expression, but for the service of others and the glory of God."
—Philip Graham Ryken in Art for God's Sake
16 January 2010
Simply Vintagegirl has changed her outfit to one a bit more fashionable to her title. The new layout is soft and gentle, incorporating a few vintage accents.
The new design has been in the workings for quite some time now. It began just as an idea (as most things do), and then formulated into what it is today (after a couple major changes in the blueprints).
A few changes include:
• The Home page and Photography blog retiring,
• The Archives have moved to their own page,
• A Frequently Asked Questions (f.a.q.) page is in the works, and
• The Categories are now located at the top of the blog.
The before and after:
The vintage texture in the background I created from a scan of an old book. The words you can see in the image are from this lovely poem my dear cousin wrote.
There are a couple more things I'm going to do to the design, but I wanted to go ahead and surprise you all with it now. In the meantime, please pretend you do not see the dust.
P.S. New posts are on their way, so stay tuned to keep updated!
1 January 2010
It does seem odd that 2009 is now finished, having just completed it's course in our time zone. This past year has been one that I shall never forget! It has been one filled with surprises, joyous fellowship, unimaginable projects, and the love of my Lord and Savior Jesus Christ.
This year has had its ups and downs, but looking back I can see how the Lord uses even the little things to prepare His people for what He has in store for them – whether they are around the corner or on the other side of a steep and treacherous hill.
"And we know that God causes all things to work together for good to those who love God, and are called according to His purpose." —Romans 8:28
We began 2009 with many plans and goals. Some we accomplished, some have been postponed, and some may never be even started. But God is faithful, and has blessed us with far more than we could have ever planned, expected, or anticipated! What a comfort to remember that,
"The mind of man plans his way, but the Lord directs his steps." —Proverbs 16:9
We have been able to look back and see our Creator's mighty hand working things according to His perfect plan and purpose. We can delight in the Lord in both joyous times and sorrowful times because we know that He is sovereign and in control. We must trust in Him with all of our heart,
"Trust in the Lord with all your heart and do not lean on your own understanding. In all your ways acknowledge Him, and He will make your paths straight." —Proverbs 3:5-6
With thankfulness and joy I say farewell to 2009 . . . not because things were unpleasant, but because I am ready to find out (in His timing) what God has in store for the future!
Saying goodbye to this past year does not mean that it shall not be spoken of again, as I am sure that this will be a year spoken of for many decades to come, but that we are saying hello to a new year!
As we enter the year of our Lord 2010, may we be drawn ever closer to the Lord Jesus Christ, and be found faithful to what He has called us to do!
25 December 2009
"Now may the God of peace who brought
again from the dead our Lord Jesus,
the great Shepherd of the sheep,
by the blood of the eternal covenant,
equip you with everything good that
you may do His will, working in us
that which is pleasing in His sight,
through Jesus Christ, to whom be
glory forever and ever. Amen."
Hebrews 13:20-21
I hope you all have a wonderfully blessed Christmas!
26 August 2009
5 March 2009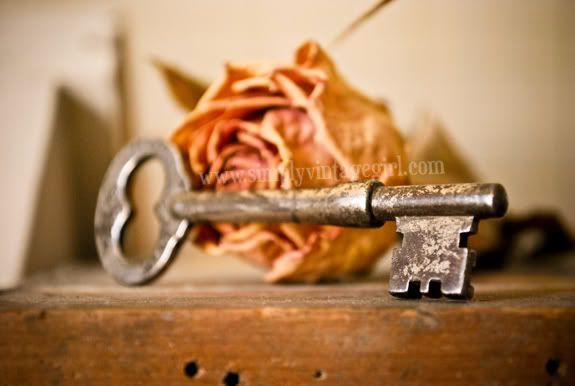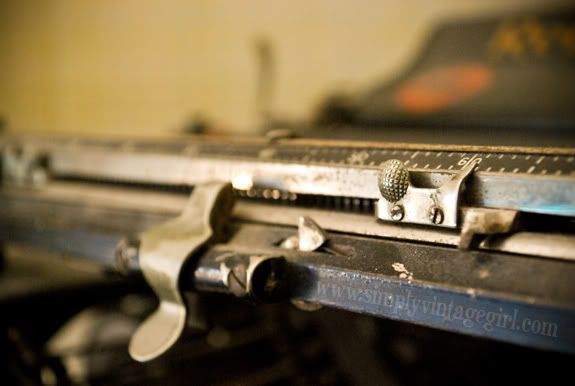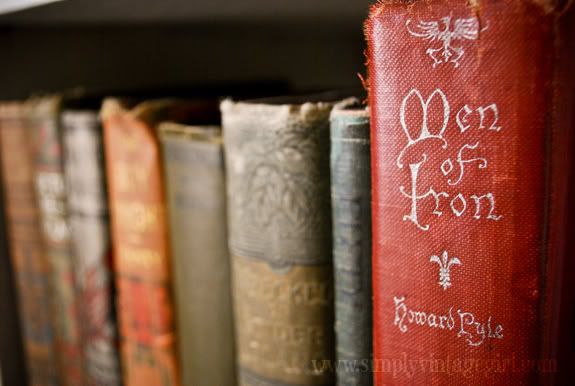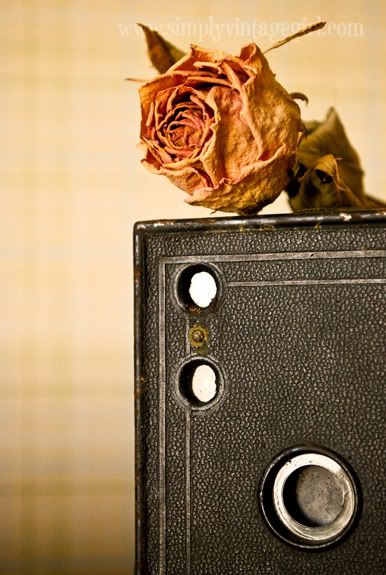 10 January 2009
A while back, I found this special tin at a small antique shop. The tin is quite worn, adding to the vintage beauty of the design.
On the lid of this little treasure is a portrait of Her Majesty Queen Elizabeth II. The tin is a souvenir of the coronation of Queen Elizabeth II on June 2, 1953. It was Made in England by George W. Horner & Co. Ltd. on Chester-Le-Street, County of Durham.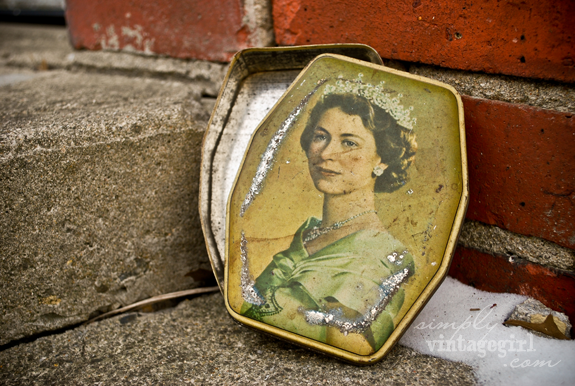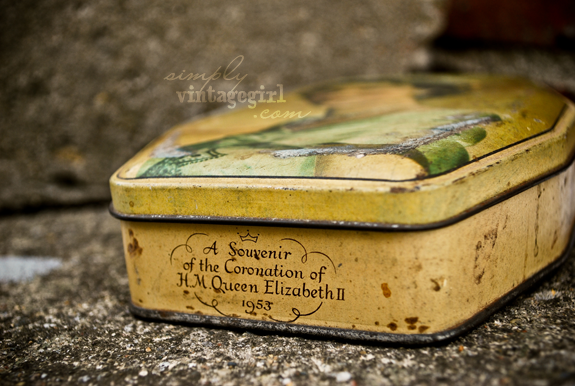 I think it is a wonderful find — isn't it lovely? I wonder if anything came inside of it? Do any of my English visitors know?
19 December 2008
This little pouch I created is simple to make and easy to fill. It is the perfect size to hold little treasures found on adventures, such as pebbles, fossils, pine cones, berries, leaves, buried treasure, or any other little thing found while exploring. It is also the perfect place to store goodies (candies, cars, doll clothes, ribbons, toys, sewing supplies, etc.).
Supplies: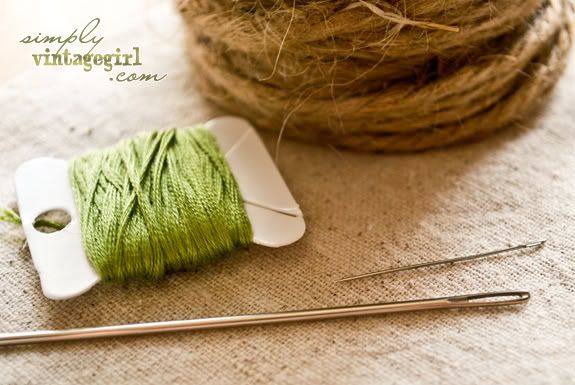 • Burlap or Course Muslin – material for pouch (I cut a folded piece of muslin, with the cut dimensions 6.5 inches wide, and 7.5 inches tall)
• Needles – small for sewing, large (very large) for pulling twine through material
• Twine – for draw-string (I used two that where each about 20 inches long)
• Thread – embroidery floss will work well (I used 3-ply)
Directions:
1. Fold about an inch of the top edge inward. Knot and sew (with the straight stitch) across, making a nice hem. This will be seen from the outside when the pouch is finished, so make the stitches the way you would like them to look.
2. Sew the straight stitch about a quarter of an inch from the raw edge. Knot and and cut thread.
3. Hem both ends in this way, making sure to fold them down on the same side of the material – what will be the inside of the pouch.
4. Fold them together, front pieces facing together. Sew about 3/8-inch from the edge all the way down to the bottom.
5. When you come to the bottom where the material is folded, knot securely.
6. This type of finish will make the bottom corners of bag to appear like this when folded right-side-out.

7. For different corners that give more room at the bottom of the pouch, here is a variation. Sew just like before, but add another step. Flatten the inside corner of the pouch to make a triangle, and fold the seam to one side.
8. Sew straight across triangle about 3/4-inch from the tip.
9. When turned right-side-out, the corner should look something like this.
10. The inside of the pouch should look like this.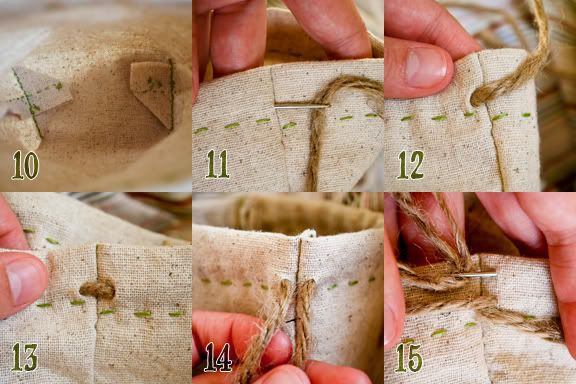 11. Turn pouch right-side-out. For the draw-string, take a very large needle and thread the twine through it. Poke needle through the first layer of the material at the top of pouch, but not through the second piece. Poke the needle back out through the other side at the edge. Now, this is a little stressful, but if you have strong material it should be alright. Pull the needle through the first hole that was made, dragging the twine through the hole with it. Pull the needle through the second hole on the other side as well.
12. It should look something like this.
13. Do the same on the other side of the hem to where you have something that looks like this on one side,
14. and two pieces of twine on the other.
15. Do this again, just on the other side. When you are finished, each side should have a small line, and a set of twine ends.
16. To keep the twine in good condition and from sliding through the casing, tie knots in the ends of both sets.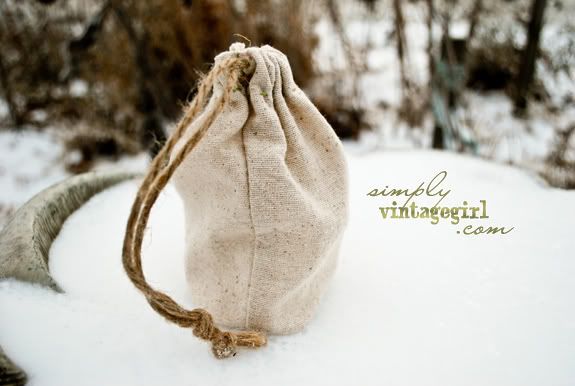 If this pouch is for a little lady, you can embroider any type of decoration you would like (e.g. flowers, verses, etc.) for extra beauty.
I keep my sewing supplies – needles, thread, etc – inside of my pouch, and have found it quite handy. I hope you enjoy yours!