17 July 2010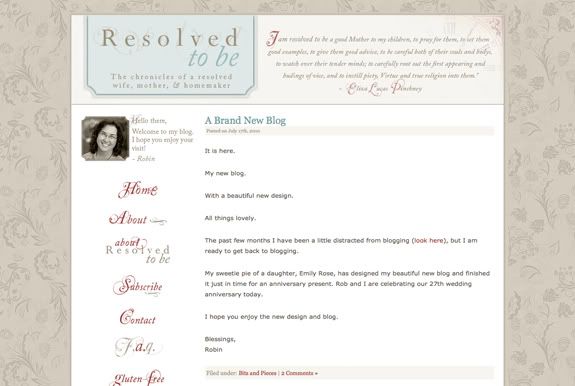 "Resolved To Be" is the new blog of my blessed mother. Having moved from Robin's Egg Blue, she hopes to more thoroughly capture her vision through her new site, making it a sweet and inviting place to encourage other wives, mothers, and homemakers.
It was a delight to have the opportunity to design her new blog, and she's a joy to work with.
The theme incorporates gentle shades of taupe, blue, and red through an elegant combination of the decorative font, seamless background, and beveled edges.
And the added detail of a faded clock in the top-right corner of the header is a quiet reminder of the shortness of life . . . the brief amount of time we have on this beautiful earth . . . and how we must resolve and be intentional in all that we do.
I encourage you to visit Resolved To Be, leave my precious mother a comment, and maybe even subscribe to her updates.
Click here to stay updated with Simply Vintagegirl!