28 October 2010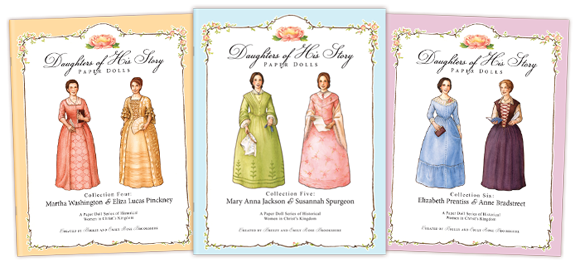 We are delighted to present our latest paper dolls from the Daughters of His Story series. We have had a wonderful time this summer working on the next three collections which feature Martha Washington and Eliza Lucas Pinckney, Mary Anna Jackson and Susannah Spurgeon, and Elizabeth Prentiss and Anne Bradstreet.
These ladies have become so dear to us as we studied their lives and legacies. We hope that they become as dear to to you, and that you are blessed by the Lord's goodness radiating from their hearts. We want young ladies to grow up knowing that the Lord cherishes purity and holiness, and that He changes the world through those who are faithful to His Word.
Noble Rose Press is having a grand sale for the announcement
of the latest paper dolls! Click here to see the great prices and read a
little more about these godly women from history!
It is not only possible to remain unstained by the world, by the Lord's strength, but it is imperative that we be proactive in glorifying God in our lives. These women from the past are shining examples of dedication to the Lord's work as wives and mothers who changed the world.