23 October 2008
Welcome to the first A Homemade Christmas! This is week One of Ten (you don't have to enter in each one). I hope you'll join us in sharing about homemade gifts that you have received or made — past, present, and future!
You can click here for the Introductory post.

This calendar will last a very long time, which makes it a great gift. Since it is perpetual, it just keeps going. There are lots of things you can do with the idea, and it's pretty easy to make.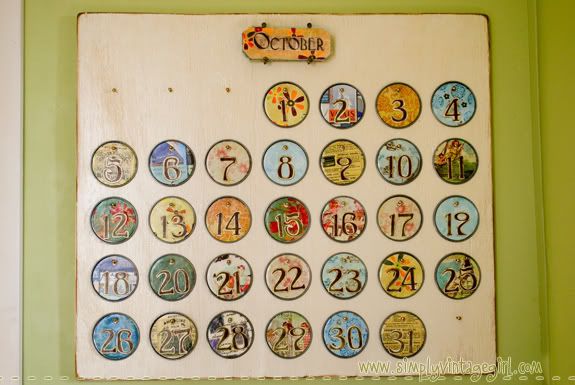 It has a bit of a vintage look to it. Each date is the tin lid of a fruit concentrate can. I used scrapbooking paper for the background of each date. The numbers I printed out on card stock and then cut out with an exacto knife. The background is a wood board that was primed, spray painted, then distressed (sanded and stained).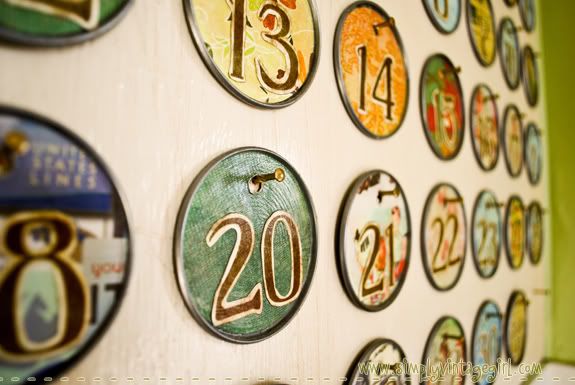 Each date is put together with decoupage glue (we use Mod Podge) with the scrapbook paper in the background, and the numbers stuck down on top of that.
To make the holes, I took a piece of vellum and cut it out the same size and the background paper. I used vellum so that I could see where to put the hole. Near the edge (about 1/4 inch from the edge), I punched a hole in the vellum. This was used as the hole template.
I laid the vellum template on top of each finished date, and marked (with a permanent) the spot where the hole was to be. In this way all of the holes were located in the same place on each one.
My wonderful daddy put holes in the tin lids, and cut out the months.
The months are actually cut-outs from the sides of large tin cans (you can slightly see the ripples in the middle). After Daddy cut the tin out, I decoupaged them with scrapbook paper. Four large nails were added to the top to hold the months.
An addition for the calendar (which I haven't made yet) would be making dates for holidays, birthdays, and anniversaries.
It does take quite a while to make, so if you're thinking about making one, you better get to work saving all those juice can lids!
Have you made or received any homemade gifts? If you'd like to make a post about your homemade gifts, you can sign Mr. Linky below. You can add one of my Homemade Christmas icons to your blog by clicking here. Each Thursday (until the end of December) there will be A Homemade Christmas post! Hope you'll join in the fun as we learn, inspire, and encourage one another!
A Homemade Christmas Participants